How Much Do You Know About UHF Connectors?
Share
Issue Time

2023/02/07
Summary
UHF coax connectors are by far the most popular type of ham radio, so what do you know about them? Read on to learn more.
UHF coaxial connectors and adapters are general-purpose devices developed for low-frequency systems from 0.6 - 300 MHz. Originally intended as a video connector for radar equipment, it is by far the most popular type in amateur radio
The UHF connector was designed in the 1930s by a designer at Amphenol for use as an RF connector in the radio industry.
UHF males are referred to as "PL-259" and females as "SO-239".
Characterized by its threaded connection, the UHF connector is widely used because of its ease of assembly. The UHF solderable screw-type termination feature does not require special crimping tools.
These connectors have a threaded connector, which prevents them from being accidentally removed. It allows them to be tightened enough to make a good low-resistance connection between the two halves.
The UHF connector thread is 5/8 inch 24tpi UNEF standard. It's worth noting that the center conductor jack on the SO-239 can also accept banana plugs. This is useful for some test applications that require access.
PL259 connectors are available in two sizes: thick coax and thin coax. Typically, larger-sized versions are used with RG-8/U or RG-9/U, while smaller versions are better suited for cables including RG-58/U. The basic connector remains the same, but the cable entry area is modified for the associated coax.
Thin cables are typically used for short or "chip" leads, but not for long wires because thinner cables have higher losses than thicker cables. When a thin cable variety is required, the PL259 plug is often used with a "reducer" to fit the large cable entry hole in the plug to the thin cable. Interestingly, the term "PL259" originally referred to a specific mechanical design, although it is now a more general term referring to UHF male connectors.
UHF Specifications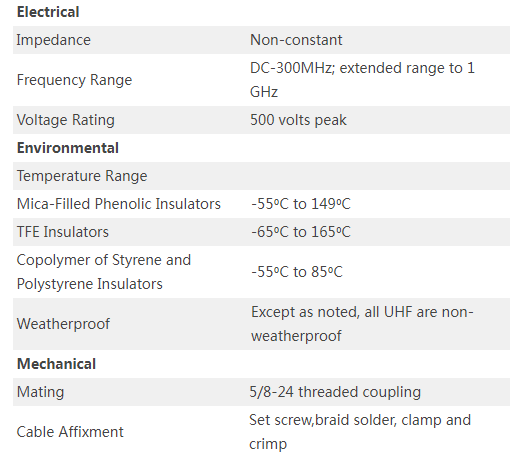 Features and Benefits of UHF Connector
- Optional reducing adapters available for a wide range of popular coaxial cables
- Solder termination types require no special assembly tools
- Crimp termination style provides a lower-cost installation method
- Large-size threaded fittings are a robust design
- Low specification requirements and low cost
Application
Antenna
Military
Public address system
Low-frequency application
UHF Adapter
In addition to the basic PL259 UHF and SO239 connectors, various adapters are also available. These include T-pieces and inter-series adapters, which enable different types of connectors to be adapter-connected together.
The UHF to BNC (BNC to UHF connector) variant is probably the most common. Although they do not perform as well as other more expensive RF connectors, they are still very useful RF connectors for many applications.
We also have many other coaxial cable connectors, please
contact us
if you have any questions.
SOMI is a professional
custom antenna accessories manufacturer
. Specializing in the production of TV signal amplifiers, TV signal connectors, TV signal splitters, etc. We have experience in cooperating with many large companies around the world to understand customer needs and product requirements. We have the experience working with many big companies all over the world to understand customer needs and product requirements.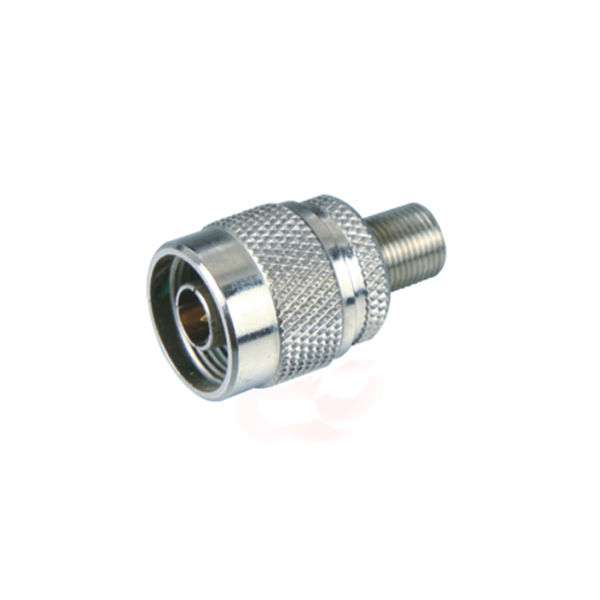 UHF male connector to F connector nickel-plated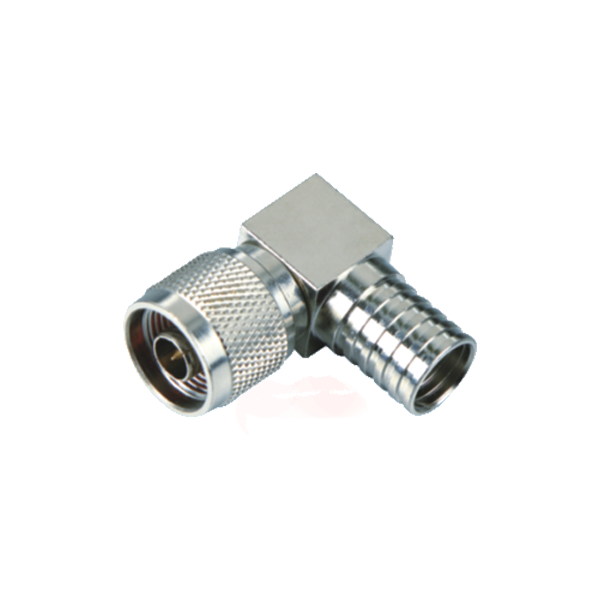 UHF male connector right angle crimp type nickel-plated