How to Identify the Correct Coax and Connectors
Share
Issue Time

2022/07/26
Summary
Connectors come in gender, polarity, and different types and sizes. They must be properly matched for both connectors to function properly and have sufficient signal. To learn how to choose the right coax cable and connector, this article explains what you should know when looking for a connector.
Coaxial cables used for radio communication are also known as RF (radio frequency) coaxial cables. These RF coaxial cables are used to carry RF signals from one point to another. Connectors are used to connect cables to equipment and help maintain the shielding of cables. Knowing what coax cables and cable connectors are can help you determine the right connector for your needs.
Connectors come in gender, polarity, and different types and sizes, which can be confusing if you don't understand how connectors work. They must be properly matched for both connectors to function properly and have sufficient signal.
To learn how to choose the right coax cable and connector, this article explains what you should know when looking for a connector.
Types of coaxial connectors
Coaxial cable connectors connect the cable to other equipment and help maintain shielding around the cable.
BNC
BNC is a popular radio signal connector. These RF connectors are used for quick connect and quick disconnect in RF equipment. BNC is used for low frequencies, used in radios and security cameras.
TNC
TNC connectors are a threaded version of BNC connectors. These connectors are weatherproof and are typically used for cell phone and RF/antenna connections. These help resolve signal problems when operating the device. TNC connectors are also waterproof.
Type F
F-Type can be seen on televisions and used with antennas, cable, satellite, and modems.
UHF
UHF connectors are used for amateur radio. A mini version of this connector is designed for use with cell phones.
SMA
SMA connectors are small and can accommodate thinner coaxial cables. This connector provides reverse polarity.
QMA
QMA can be called an upgraded version of SMA. These are quick disconnects, which means they can be removed quickly and easily.
FME
FMEs are smaller in size and can pass through holes and become conductors for larger coaxial cable connectors.
NMO
NMO is another connector you may see often. These can be seen with antenna mounts like Motorola or Pulse Larsen. These are mainly used as male connectors.
Gender: male or female
The end of the connector can be identified as male or female. The plug is male and the jack is female. Male connector plugs are internally threaded, while female connector receptacles are externally threaded. Male and female connectors are together, so the shell of the plug (male) covers the shell of the jack (female). You won't be able to connect male-to-male coax connectors and vice versa.
Polarity
Polarity is another thing you must know when putting connectors together. There are two types of polarity connectors can have: standard and reverse polarity. When you connect male to female connectors, they must have the same polarity. Reverse polarity just means the holes and pins are swapped or reversed.
You can tell if the polarity is standard or reversed by looking at the plug/jack. Standard is what is usually seen in connectors. This type of style can be shown in the paragraph above about male or female connectors. Reverse polarity plugs are male and have a socket, female threads, and a center hole. Reverse polarity jacks are female and have a center pin with external threads. Reverse connectors help prevent users from connecting the wrong type of connectors, such as male-to-male and female-to-female. This can damage the connector and possibly interfere with the signal.
Coaxial cable size
Another thing you need to know is the size of the coaxial cable. The coaxial cable connector must be sized for the installation. If the connector is too small, the cable cannot be installed. If it's too big, it's not seated properly and will most likely fall off the cable.
To identify the coax type, you'll see two letters and numbers on the cable. The two letters you will see are RG, which means radio guide. The number on the back identifies the cable type. To find the type of coax, you have to look at these two things on the wire.
The aforementioned UHF connector is commonly found in RG-58 and RG-8. SMA, NMO, and FME are commonly used for RG-58 or thinner coaxial cable.
The most common coaxial cable sizes are:
RG-6 (6.15mm)
RG-11 (10.30mm)
RG-58 (4.95mm)
RG-59 (6.15mm)
RG-62 (6.15mm)
RG-12 (14.10mm)
RG-213 (10.33mm)
Cable length
Coaxial cable lengths may vary by application. Coaxial cables can be connected together to cover long distances. Cable lengths can be from 50 to 1000 feet. The installer may cut sections of the cable to shorter lengths depending on the signal strength and range you need to cover.
Advantages of coaxial cable
Cables have their advantages by using them for television, the internet, and radio purposes. Some of the advantages of coaxial cable are that it is relatively inexpensive, easy to install, and designed to be durable and durable.
I hope this helped you understand how coax cables and connectors work. You should now be able to determine the required cable size and connectors. Remember that connectors have genders (male and female) and must work or connect together. The connector can have reverse polarity, which means it is the opposite of a standard connector that has toggle pins. Cables come in different sizes and the connectors must be matched to properly secure the cable. If you want to buy coaxial cables and connectors, please
contact us
.
SOMI is a professional
custom antenna accessories manufacturer
. We are a professional manufacturer of coaxial cable and antenna connectors, CATV amplifiers, CATV splitters and splitters, satellite splitters, CATV wall sockets (terminal boxes), and other high-quality CATV system accessories, audio video connectors . We have our own engineers, so we can design and produce products according to customers' requirements. All products are produced by automatic machines and thoroughly tested to ensure the quality of our products.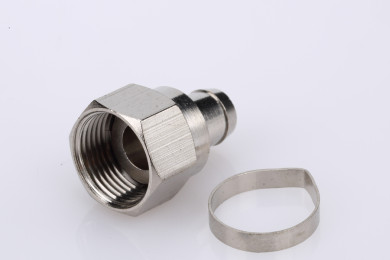 coaxial cable f connector crimp type nickel plated with o ring water proof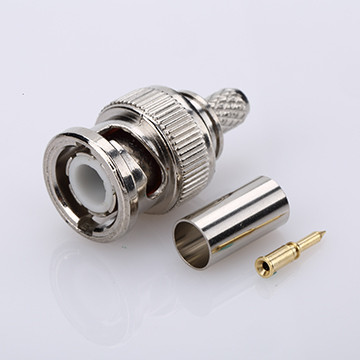 BNC male connector crimp type nickel-plated attached pin and copper pipe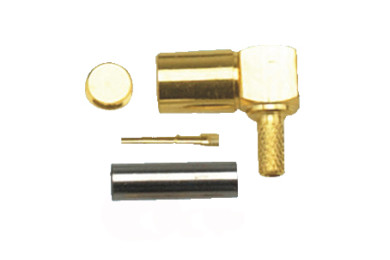 SMA Male Plug RF Coaxial Connector For Cable RG179 Right Angle Gold-plated